Health and Environment Adaptive Response Task Force
The Health and Environment Adaptive Response Task force (HEART) is a group within the Canadian Federation of Medical Students (CFMS) that was established in 2016 to help integrate communication and advocacy among Canadian medical students regarding current issues in environmental health and climate change. This is through events to raise awareness, and the development of core curricular competencies that address the main environmental issues to be included in the medical school curriculum across Canada.
2017-18 HEART members: Finola Hackett (University of Alberta), Blake Hollett Power (Memorial University), Itai Malkin (University of Ottawa), Julia Sawatzky (University of Alberta)
Curricular Competencies
The following steps have been taken since the creation of HEART to meet our goal of environmental health curriculum incorporation:
Steps 1 & 2 – completed. Steps 3 through 7 are ongoing now.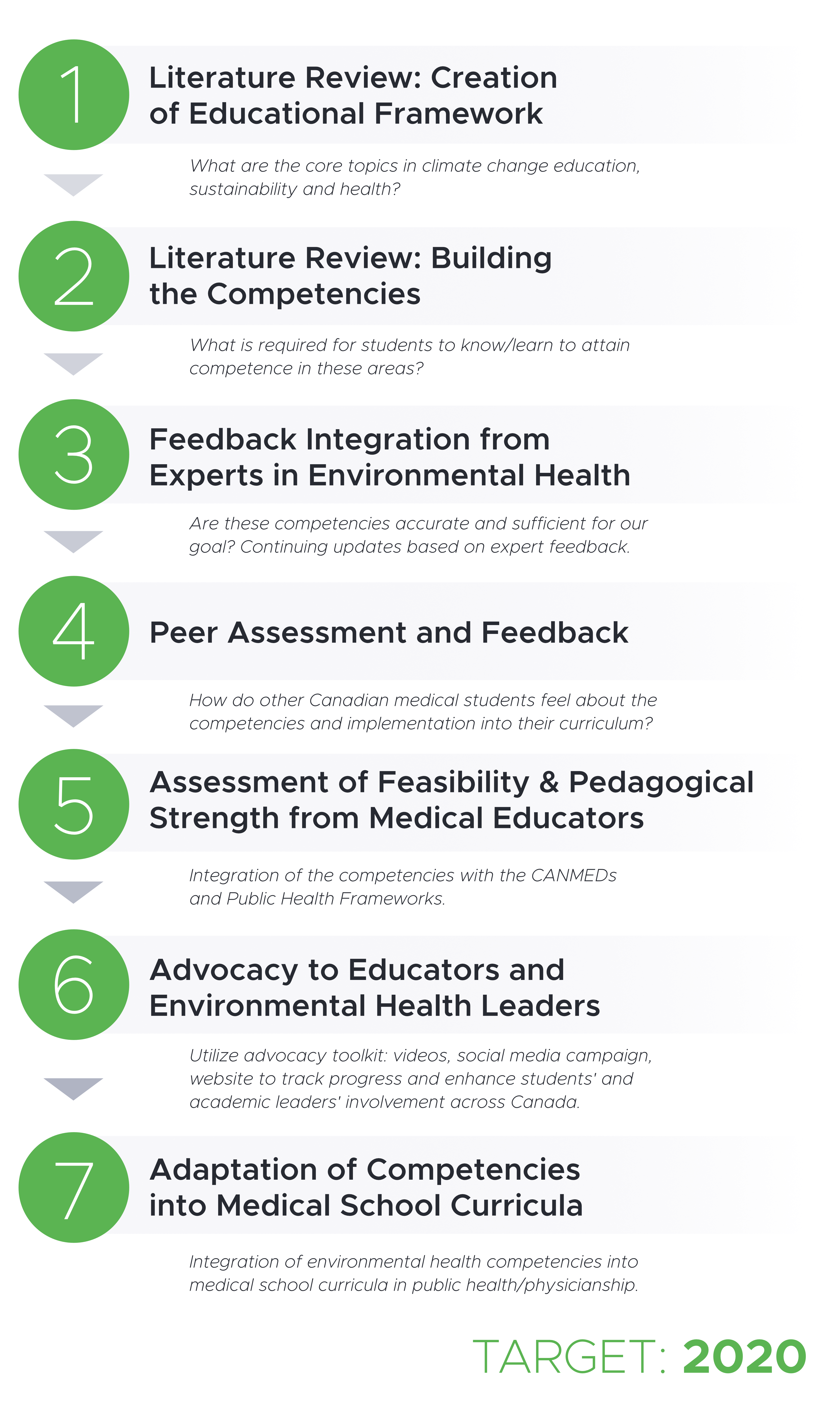 Our goal: the proposed climate change and environmental health educational competencies to be incorporated into Canadian medical schools' curricula by 2020.
Read more about HEART's curricular competencies initiative here
Awareness Initiatives
HEART has had great success thus far with events and contests that are intended to increase the knowledge and awareness of medical students towards environmental issues.
- Our is an annual contest that allows students to submit photos they've taken that show what a sustainable and healthy environment means to them. This has been taking place for the past 2 years. The 2018 photo contest received 63 high-quality and varied entries from across the country.

2018 Earth Day Photo Contest Winner: Midnight Sun, submitted by Candace Nayman, University of Ottawa

- Our , a contest, new in 2018, in which medical students upload photos to social media (Facebook, Twitter or Instagram) of them taking environmentally conscious actions that would promote a reduction in their ecological footprint (e.g. riding a bike, recycling, using a reusable coffee thermos). This increases student participation with HEART and helps them further understand the connection between their environment and the health of their community. The University of Saskatchewan medical school won the inaugural Earth Week Activity Challenge.
Contact us
:
Canadian Federation of Medical Students
267 O'Connor Street, Suite 401
Ottawa, ON K2P 1V3
Phone: 613–565–7740
Fax: 613–565–7742
General Inquiries: Rosemary Conliffe

Media: Christina Schweitzer

Information Technology: Pavel Yarmak