Planetary Health Competencies
**This page has not been updated since 2021. It is in the process of being updated. In the meantime, please contact the 2022-2023 Director of Global Health, Khalidha Nasiri, at

[email protected]

if you have any questions about the global health portfolio**
Climate change is inextricably linked to public health. See these excellent resources from WHO, the Global Climate & Health Alliance, and The Lancet
HEART has been working since its inception to incorporate learning of the crucial links between planetary health and human health into medical curricula at all Canadian medical schools. HEART has partnered with the Association of Faculties of Medicine of Canada (AFMC) to incorporate planetary health teaching into all Canadian medical schools' curricula by the upcoming 2025 curricula refresh nation-wide.
To achieve this goal, HEART has developed a set of "Planetary Health Educational Competencies" which are modelled after the MCC competencies all Canadian medical schools must teach in order to receive accreditation and the CanMEDS roles for physicians. Since their initial release in 2019, the curriculum competencies were recently updated in 2021 with the latest literature and to center them on climate justice and Indigenous ways of knowing. Please see here for HEART's updated Planetary Health Curricular Competencies document. Our competencies provide a universal standard for planetary health education that need to be implemented at undergraduate medical education programs across Canada and internationally in order to prepare future physicians to practice in a climate crisis.
The following steps have been taken since the creation of HEART to meet this goal: Steps 1 through six – completed. Step 7 – ongoing.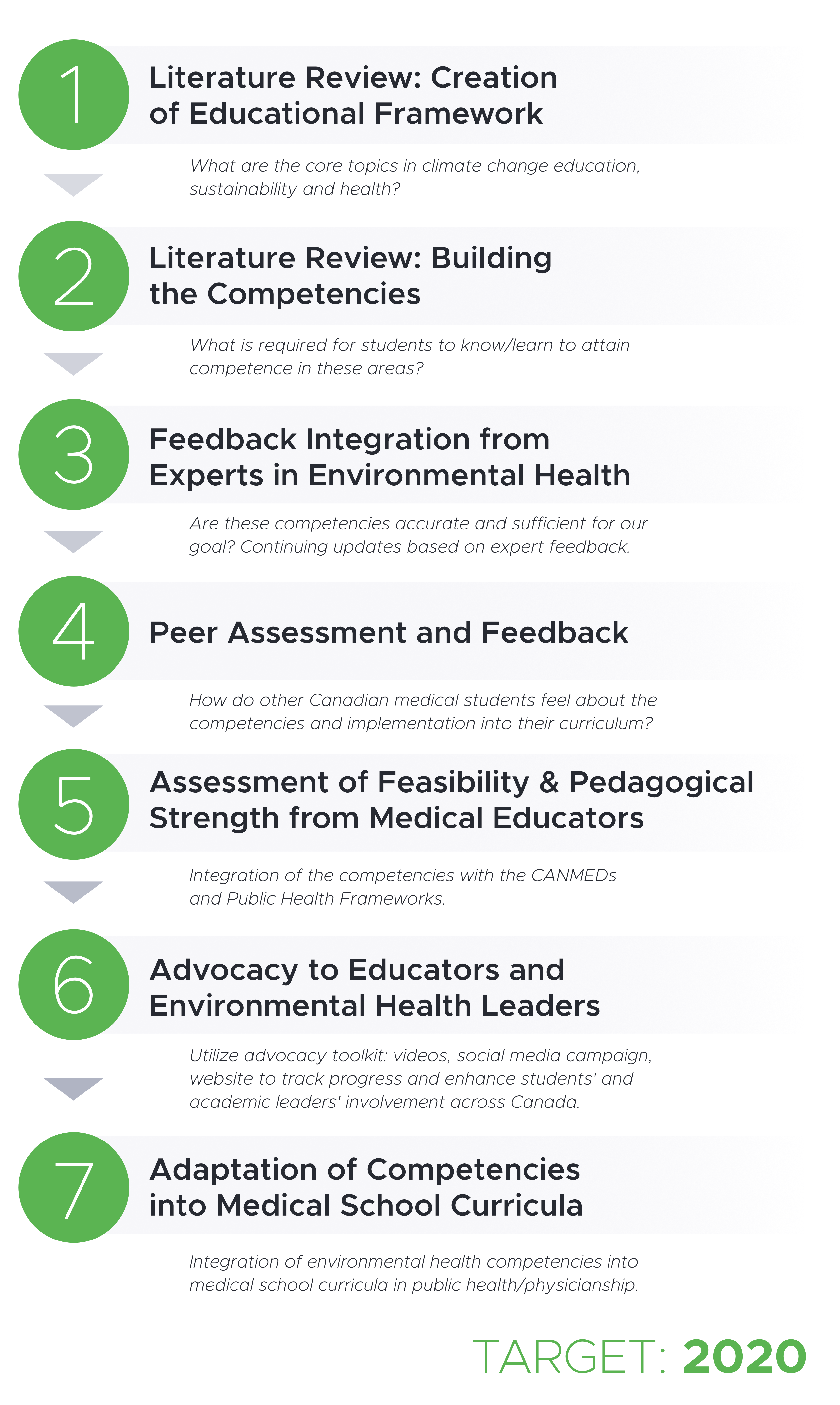 The following individuals have been involved in the creation of the CFMS HEART Planetary Health Educational Competencies:
Updated competencies written by medical student members of HEART, 2020-21: Owen Dan Luo (McGill University), Harry Wang (University of Ottawa), Celia Walker (University of Calgary), Kabisha Velauthapillai (University of Toronto), with the support and feedback from the following planetary health and medical education experts:
Dr. Atanu Sarkar, MBBS, MES, MCH, PhD, Associate Professor, Environmental/Occupational Health, Division of Community Health and Humanities, Faculty of Medicine, Memorial University of Newfoundland
Dr. Andrea Hull, MD CCFP DTMH, Department of Family Medicine, University of Calgary
Dre. Claudel Pétrin-Desrosiers, MD CCFP, Family physician, CLSC de Hochelaga Maisonneuve; Clinical lecturer, University of Montreal; President, Quebec Association of Physicians for the Environment (AQME)
Dr. Sonja Wicklum, MD CCFP FCFP, Department of Family Medicine, University of Calgary
Dr. Husein Moloo, MD, Faculty of Medicine and Department of Surgery, University of Ottawa; Ottawa Hospital Research Institute
Dr. Edward Xie, MD MSc CCFP(EM) DTM&H, Fellow, Centre for Sustainable Health Systems, University of Toronto; Assistant Professor, Department of Family and Community Medicine, University of Toronto
Dr. Warren Bell, MDCM CCFP FCFP(LM), Past Founding President, Canadian Association of Physicians for the Environment (CAPE)
Dr. Nicole Redvers, ND, MPH, Assistant Professor, Department of Family & Community Medicine, University of North Dakota School of Medicine & Health Sciences / Board Chair, Arctic Indigenous Wellness Foundation
Dr. Laura Muldoon, MD MPH, Director of Social Medicine, Undergraduate Medical Education, Faculty of Medicine, University of Ottawa
Dr. Signe Richer, MDCM CCFP(EM) FAWM, Curriculum Lead for Climate Change and Planetary Health, Faculty of Medicine, McGill University
Dr. Melissa Lem, MD CCFP FCFP, President-elect Canadian Association of Physicians for the Environment, Clinical Assistant Professor, Department of Family Practice, University of British Columbia
Dr. Finola Hackett, MD CCFP, Past Founding Chair, Health and Environment Adaptive Response Taskforce, Canadian Federation of Medical Students
Original competencies written by medical student members of HEART, 2017-18: Finola Hackett (University of Alberta), Itai Malkin (University of Ottawa), Blake Hollett Power (Memorial University), Julia Sawatzky (University of Alberta) and edited by medical student members of HEART, 2018-19: Sasha Létourneau (Queen's University), Natalya O'Neill (University of Toronto), Finola Hackett (University of Alberta), Kira Genise (University of Ottawa), Jacqueline Mincer (Dalhousie University), Kelsey MacQueen (University of Calgary), Tiffany Got (University of Toronto), Meghan Kerr (University of Toronto), with the support and feedback from the following experts:
Dr. Courtney Howard (Board President, Canadian Association of Physicians for the Environment)
Tibetha Kemble (Director, Indigenous Health Initiatives Program, University of Alberta)
Dr. Jim Talbot (University of Alberta Faculty of Medicine, Former Chief Medical Officer of Health for Alberta)
Dr. Laura Muldoon (Director of Society, the Individual and Medicine curriculum, University of Ottawa)
Dr. Atanu Sarkar (Memorial University, Community Health and Humanities)
Dr. Duncan Webster (Division of Infectious Diseases, Dalhousie University)
Dr. Curtis Lavoie (Department of Pediatrics, University of Ottawa)
Dr. Daniel Rosenbaum (PGY-5), Dr. Bushra Khan (PGY-2),Dr.Sarah Levitt (PGY-5), Dr. Nate Charach (staff psychiatrist at St. Joseph's Health Centre), members of the Canadian Climate Psychiatry Alliance
Below are the 11 curricular competencies that HEART has developed, which are distributed into three foundational domains: 1) Advancing Planetary Health Justice, 2) Managing and Preventing Health Impacts, and 3) Leading and Collaborating on Mitigation and Adaptation:
A. Advancing Planetary Health Justice
1. Planetary health justice
2. Marginalized and at-risk populations
B. Managing and Preventing Health Impacts
3. Food and water insecurity
4. Changing infectious disease burdens
5. Air pollution and health
6. Mental health
7. Reproductive health and gender equity
C. Leading and Collaborating on Mitigation and Adaptation
8. Ecological health promotion
9. Disaster preparedness
10. Context-specific practice
11. Planetary health care