Greening Healthcare Initiative
1) Project Green Healthcare
The healthcare sector is one of the most significant contributors to climate change in Canada. In fact, Canada has the third highest per-capita greenhouse gas emissions from healthcare in the world.1 We at CFMS HEART believe that medical students can play a pivotal role in reducing the carbon footprint of our healthcare system. To do this, we are excited to announce our newest initiative, Project Green Healthcare. This national network will empower medical students to conduct needs assessments and quality improvement projects at their local healthcare institutions, with an aim of providing more environmentally sustainable and green healthcare. Examples of potential student initiatives could be to identify avenues for improving recycling processes, implement programs to reduce energy consumption and waste, and help hospitals focus on more environmentally sustainable food choices.
Project Green Healthcare will equip participating teams with the resources, funding and training to support their local initiatives. We are very thankful for the CFMS for granting HEART $12,000 for this initiative, which will fund at least six student projects over the next two years ($2,000 per project). We have partnered with the Canadian Association of Physicians for the Environment (CAPE) and the Canadian Coalition for Green Health Care (CCGHC) to provide mentorship for students that participate in this initiative. Each student group will be matched with at least one local CAPE physician and one CCGHC member to guide them through idea generation and implementation!
Applications for Project Green Healthcare will be release in late summer 2020. We encourage interested medical students to start forming groups, connecting with local physicians, and thinking about ideas that would be best for their unique hospital system!
If you are a CAPE physician and are interested in participating in or learning more about this project, please fill in this google form.
If you are a medical student and are interested in participating in or learning more about this project, please fill in this google form.
Alternatively, feel free to email the program leads at [email protected] and [email protected].
Please see the infographic below explaining the program structure and timeline:
1. Howard, C., Buse, C., Rose, C., MacNeill, A, & Parkes, M. (2019). The 2019 Lancet Countdown on Health and Climate Change: Policy brief for Canada. Accessible from: https://storage.googleapis.com/lancet-countdown/2019/11/Lancet-Countdown_Policy-brief-for-Canada_FINAL.pdf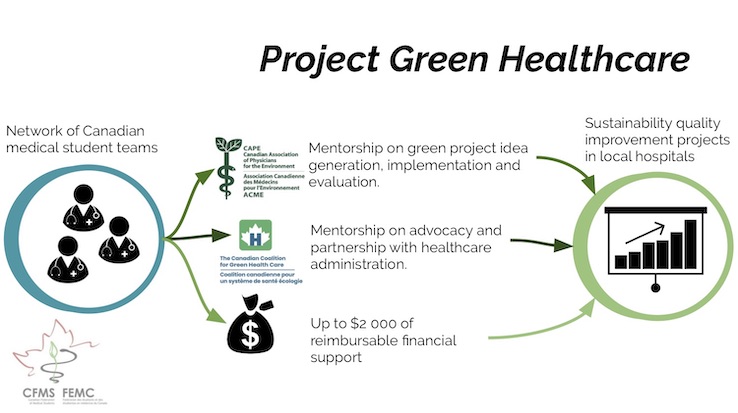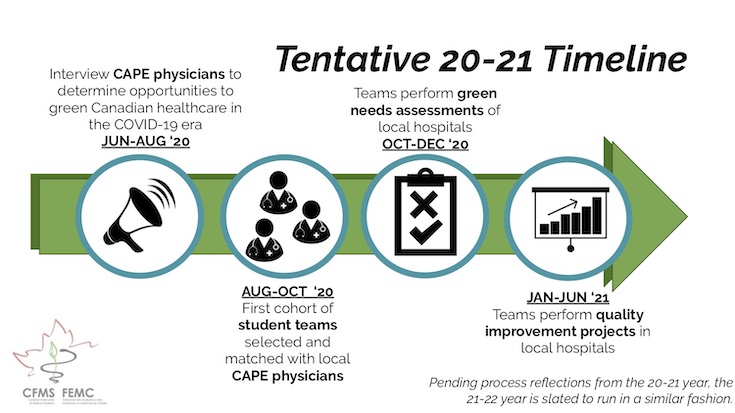 2) Choosing Greener
As a second initiative, we are planning to generate educational materials for medical students to inform green decision making in medical practise. We want to understand how physicians can make green choices in all specialties, settings (hospital, private office etc.) and domains of patient care (diagnosis, treatment, and procedures). We also want to understand the role of the interdisciplinary team in green decision making. This topic is an area of medical literature that is quite lacking currently, but one that is of great importance to future physicians given the impact of healthcare on climate change explained above.
To gather evidence for Choosing Greener, we want to interview Canadian physicians who will be able to provide examples of how they integrate green care into their practice. If you are a physician and are interested in speaking with us about this or any of our initiatives. please fill in this google form. Alternatively, feel free to email the project leads at [email protected] and [email protected].