CFMS Empower a Leader Program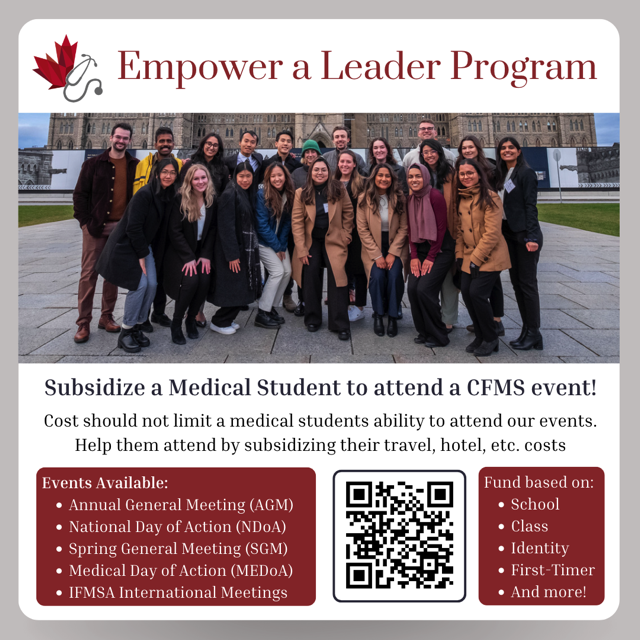 As part of the CFMS's global strategy to make our in-person events more accessible by lower the cost of attending AND as part of our EDI strategy to ensure equity-deserving groups are empowered in the CFMS, we are proud to present the CFMS Empower a Leader Program!
The CFMS is a training ground for leaders and has produced exceptional leaders for the entirety of its storied history. However, the ability of medical students to access the CFMS's best in-person opportunities is capped by their ability to fund their own attendance. While the CFMS has made significant inroads to ensuring better financial accessibility through the implementation of the CFMS-MDFM Travel Equity Fund and other partnerships, the reality of financial limitation remains ever present.
In the spirit of giving back to the medical student community and enhancing access to opportunities, we encourage you to participate in the CFMS Sponsor a Leader program. This program enables CFMS alumni, residents, physicians, and community members to provide financial support for a medical student to attend one of the core CFMS opportunities.
Click Here to Empower a Medical Student!

CFMS Annual General Meeting (AGM): Occurring each Fall, CFMS members come together to focus on ongoing and new priorities in addition to that year's set of institutional leaders getting acquainted to begin the collaboration critical for success.
CFMS National Day of Action (NDoA): Occurring each fall, a political advocacy event focused on a health equity topic voted on by members the year prior. Attendees gain hands-on advocacy skills and meet directly with politicians in Ottawa.
CFMS Spring General Meeting (SGM): Occurring each spring, this event includes workshops on EDI, advocacy skill building, CaRMS Prep, stakeholder engagement, career exploration, wellness programming and research/project presentations.
CFMS Medical Education Day of Action (MEDoA): Occurring each Spring, a political advocacy event focused on healthcare transformation priorities. Attendees gain hands-on advocacy skills and meet directly with politicians in Ottawa.
Estimated Cost: between $400-1000 depending on the institution and event location
International Federation of Medical Students (IFMSA) Meetings: Occurring twice yearly, the CFMS sends a delegation to engage with medical students globally to advance shared interests, foster advocacy collaboration, and shared learning.
Estimated Cost: between $2000-4000 depending on the host country
Not only will you be empowering an individual medical student but also the next generation of student leaders as the funding you provide will free up funding in the CFMS-MDFM Travel Equity Fund and their school's Medical Society specific funding to be used on to empower additional students.
FUNDING OPTIONS
Individual Funding: Provide full or partial coverage of costs associated with each event (Registration, Travel, Hotel)
Group Based Funding: Contribute to subsidizing specific groups of medical students (Ex. by school, year, first time attendees, equity-deserving group, first generation medical students, etc.) to directly benefit specific folks.
Travel Subsidization: Contribute funding to the CFMS-MDFM Travel Equity Fund which is allocated based on need in terms of cost relative to other attendees. This is a great way to impact MANY attendees instead of one individual.
PERKS OF BEING A SPONSOR
Recognition: Be known or anonymous to medical student you sponsor
Acknowledgement: Appreciation in form of letter or video from medical student you sponsored
Showcase: Potential formal recognition on CFMS Social Media as part of "Sponsor a Leader" campaign
If you have any questions about this opportunity, feel free to email Stephanie, CFMS Administrative Coordinator ([email protected])