Travel Discounts
WestJet Discount: January 5, 2019 – April 10, 2019 (Canada Wide) or April 30, 2019 (SGM Travel to Toronto/Hamilton)
---

The CFMS is proud to present the WestJet Discount!
CFMS members are eligible for 10% off all fare classes (basic excluded)* for guests travelling Canada wide.
CFMS members travelling to the SGM or AGM are eligable for 10% off all fare classes (basic excluded)* into and out of Toronto or Hamilton.
To take advantage of this offer, you will need the discount code listed. Please visit www.westjet.com/conventions to make a booking online. If you have questions about how to complete a booking with your discount codes, please check out WestJet's frequently asked questions.
New this year, Westjet will be extending the discount until Spring 2019!
Discount Details

Please login in order to access this discount.

Travel from: Feburary 5, 2019 to April 10, 2019 (Canada Wide) or April 30, 2019 (SGM Travel to Toronto/Hamilton)

Coupon code: 2W0C3BJ (Canada)

Coupon code: 5B4T4EX (Toronto/Hamilton)

Changes/cancellations

You can change or cancel reservations within 24 hours of booking at no charge. Further changes or cancellations can be made up to 2 hours prior to the flight; please note additional fees or charges may apply for each guest depending on fare class booked and differences in fare. Check out WestJet's service fees page for more information.

*Seasonal start and end dates apply and are indicated in the booking flow. Discount codes are only valid for travel on the dates indicated above. Percentage discount indicated can be applied towards base fares displayed in the Econo and Plus category. Percentage discount is applied to base fare. The base fare may be represented as Air Transportation Charges (excepting Other Air Transportation Charges) in the booking flow. Other air transportation charges, taxes, fees and charges are not discounted. Discount only applies to flights marketed and operated wholly by WestJet, and is not applicable when travelling with our code-share, interline or other airline partners. WestJet operated flights are indicated by "Operated by WESTJET" during your fight search. New bookings only. Offer is limited and subject to availability. Discount codes are intended for use by the event attendees and organizers only. Distribution to any outside third parties or unauthorized channel is prohibited. Discount can be used for a one-way or round-trip booking. Discount cannot be applied towards multi-city bookings. Only one discount code may be used per booking. No cash value. Non-refundable. Discount cannot be used towards the purchase of a Member Exclusive fare. Discount cannot be used towards the purchase of a WestJet Vacations package. Discount cannot be combined with any other discount codes, promotional offers or companion voucher bookings. Travel bank credits cannot be used as a form of payment when booking with WestJet dollars on westjet.com. To make a booking using Travel Bank, WestJet dollars or to change or cancel please call 1 888-937-8538. If the booking is changed or cancelled, the discount will no longer apply. WestJet dollars can be used towards payment of the base fare of an eligible flight, available on westjet.com or through WestJet's contact centre. WestJet dollars can only be redeemed from one account per booking. WestJet dollars cannot be applied against taxes, fees or charges and can only be used for new bookings. Minimum redemption rules apply and may vary. Other restrictions may apply and are subject to change at any time. Full details available at westjet.com/redeem. See your travel agent or book online at westjet.com. The discounts, the meetings and conventions travel services, these terms and conditions, WestJet's fares, schedules and policies, and any and all equipment used in connection with the provision of the meetings and conventions travel services may be changed or terminated by WestJet at any time and for any reason, in each case without notice or liability. WestJet may terminate or reduce flights to any event city at any time and for any reason without notice or liability.
CFMS Choice Hotels Discount
---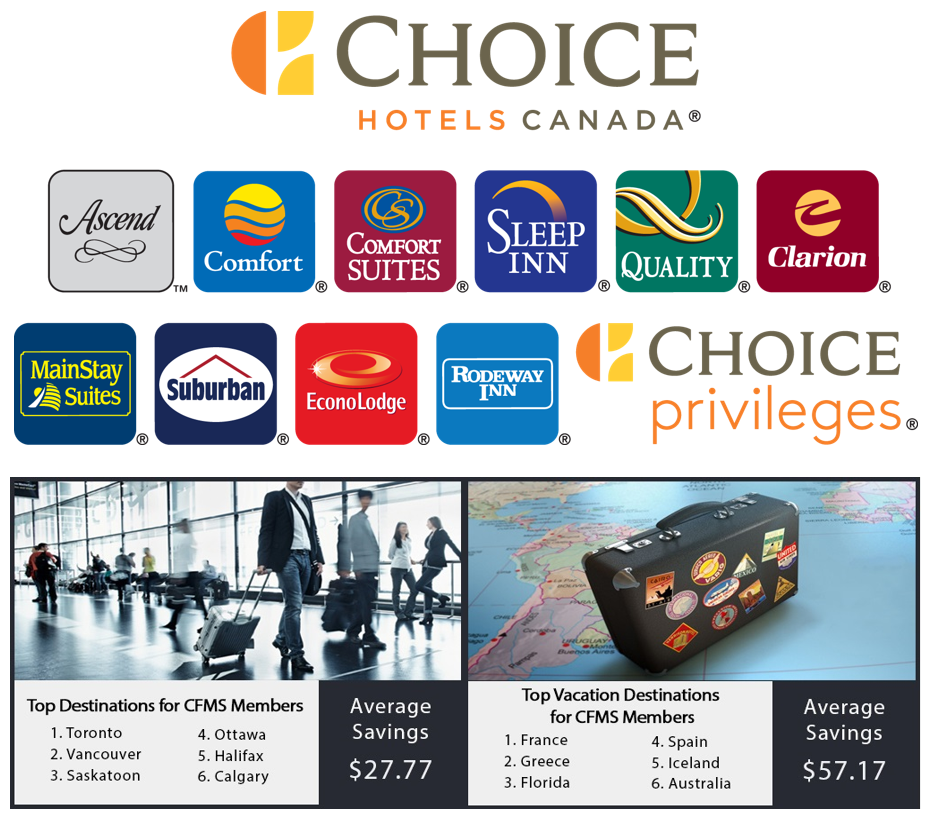 Save up to 20% off regular room rates with Choice Hotels!
Choice Hotels is Canada's largest hotel franchisor with ten great brands that offer unexpected amenities at affordable prices. And with over 300 locations nationwide, CFMS Members will find what they like at any ComfortTM, Comfort Suites©, Quality©, Sleep Inn©, Clarion©, MainStay Suites©, Suburban Extended Stay©, Econo Lodge©, Rodeway Inn© and Ascend Collection© in Canada. Plus, CFMS Members can save with discounted rates at participating hotels worldwide.
Discount Details

Please login in order to access this discount.
CFMS Travel Discounts with Local Hospitality
---
The CFMS is pleased to offer an exclusive worldwide travel discount service to our members, in partnership with Local Hospitality. Savings may exceed 50%, and average 10-20% below-market on all hotels and car rental suppliers around the world.
Save time and money. Let us negotiate the best deals and comparison prices for you. Any hotel, any car, anywhere, anytime.
Discount Details

Please login in order to access this discount.

Please The following link for your discount.
Urban Living Suites
---

Receive a 10-15% discount off already very competitive prices for downtown Toronto accommodations. Rooms vary in size and amenities from a basic room to condo-style suites. For more information, see the discount details below.
Discount Details

Please login in order to access this discount.