Planetary Health Competencies
CFMS HEART is excited to share our first assessment of planetary health education at all 17 Canadian Medical Schools!
As summarized below, HEART has created a set of core competencies on planetary health with a goal of incorporating them into all Canadian medical school curricula. To track progress, Canadian medical students and faculty have completed the first national survey of planetary health teaching in undergraduate medical education. This informal survey explored the inclusion and quality of teaching on climate change and environmental topics, and opportunities for student engagement in and out of the classroom. Students and/or faculty from all 17 Canadian medical schools participated in the evaluation. Results show varying coverage of planetary health topics, from minimal to no teaching, to some lecture-, case-, or project-based teaching. Our qualitative analysis is summarized in nine key recommendations for faculty and learners:
The full report can be found here
The summary table of of perceived strengths and areas for improvement in climate change curricula can be found here
A summary of the nine recommendations in french can be found here
We have also published an article in Lancet Planetary Health commenting on planetary health education in Canada!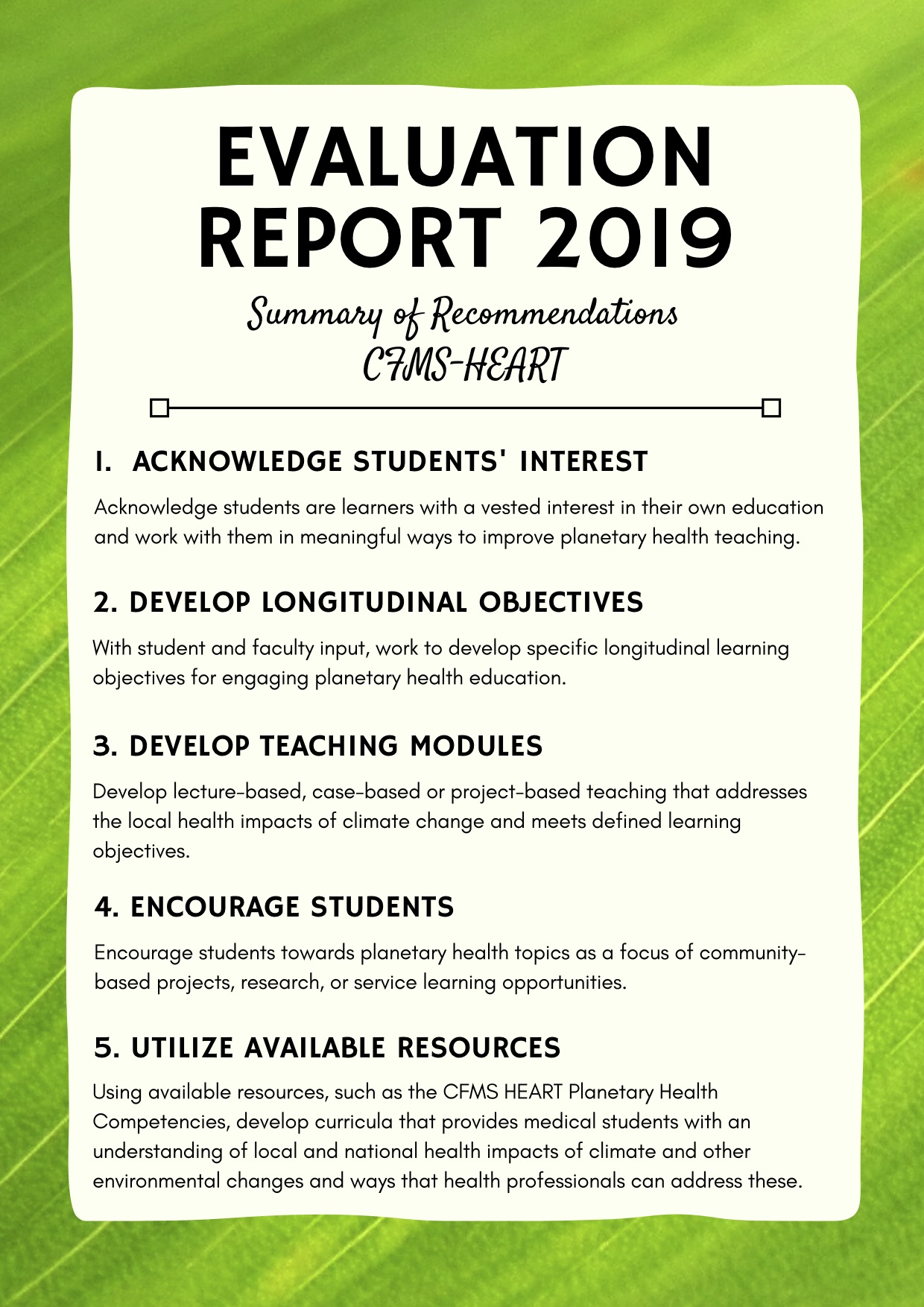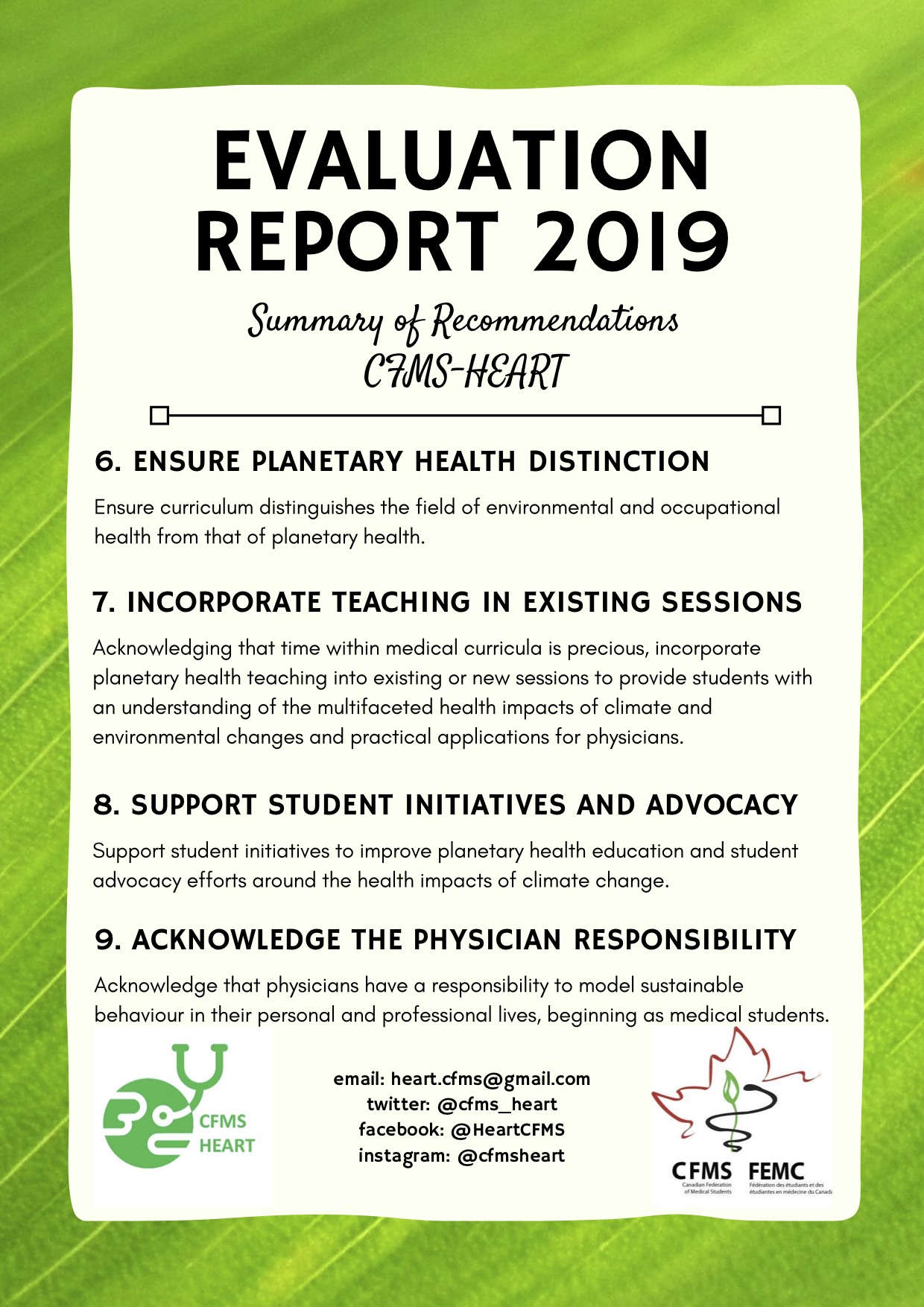 Climate change is inextricably linked to public health. See these excellent resources from WHO, the Global Climate & Health Alliance, and The Lancet
HEART has been working since its inception to incorporate learning of the crucial links between planetary health and human health into medical curricula at all Canadian medical schools. HEART's aim is to incorporate planetary health teaching into all Canadian medical schools' curricula by 2020, in line with the IFMSA's 2020 vision.
To achieve this goal, HEART has developed a set of "Planetary Health Competencies" which are modelled after the MCC competencies all Canadian medical schools must teach in order to receive accreditation.
The following steps have been taken since the creation of HEART to meet this goal: Steps 1 through four – completed. Steps 5 & 6 – ongoing.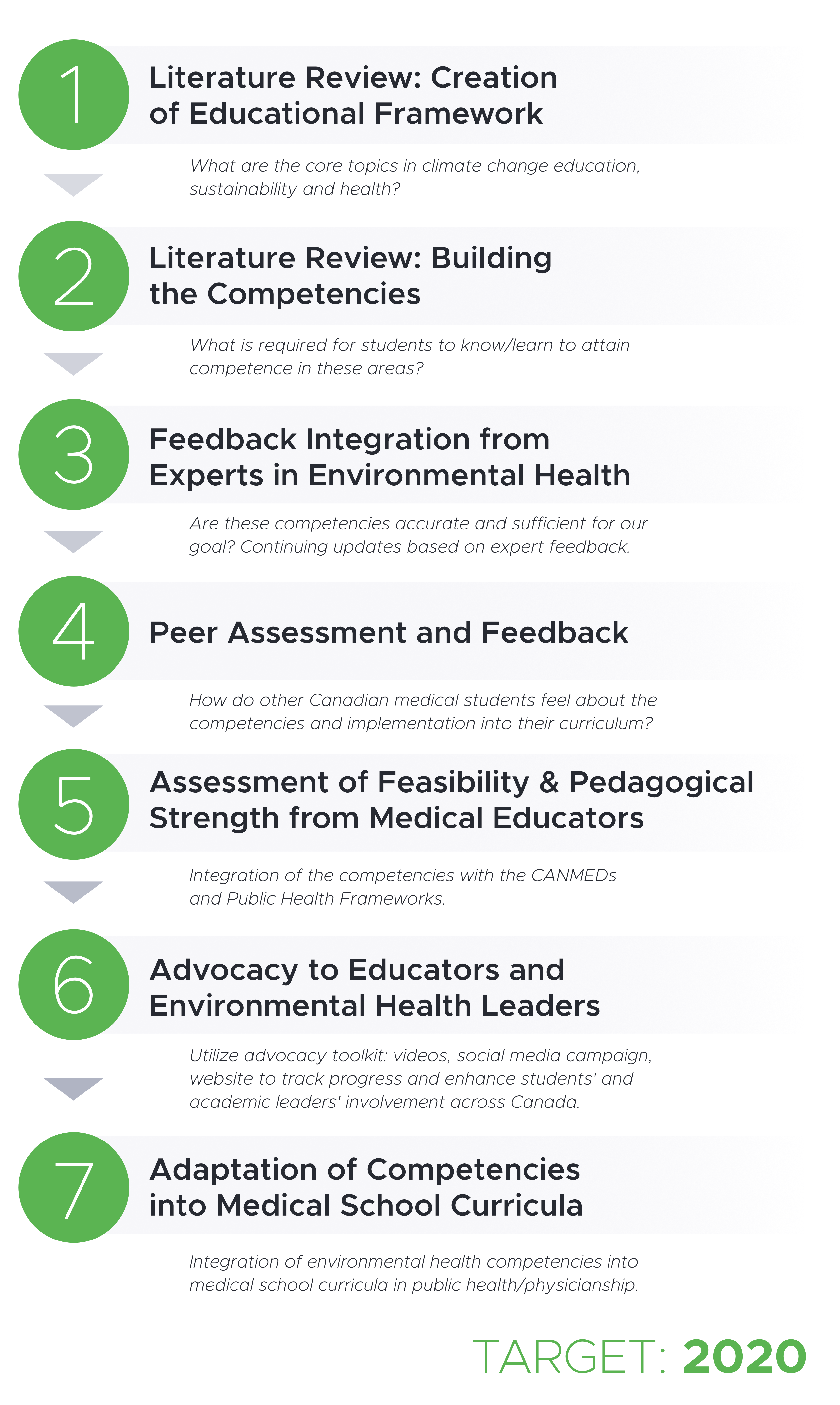 The following individuals have been involved in the creation of these curricular competencies:
Written by medical student members of HEART, 2017-18: Finola Hackett (University of Alberta), Itai Malkin (University of Ottawa), Blake Hollett Power (Memorial University), Julia Sawatzky (University of Alberta)
Edited by medical student members of HEART, 2018-19: Sasha Létourneau (Queen's University), Natalya O'Neill (University of Toronto), Finola Hackett (University of Alberta), Kira Genise (University of Ottawa), Jacqueline Mincer (Dalhousie University), Kelsey MacQueen (University of Calgary), Tiffany Got (University of Toronto)
We have received feedback from environmental health and medical education experts regarding these competencies, and updates are being continuously made to ensure adequacy for curricular implementation. Experts who have given feedback so far are:
Dr. Courtney Howard (Board President, Canadian Association of Physicians for the Environment)
Tibetha Kemble (Director, Indigenous Health Initiatives Program, University of Alberta)
Dr. Jim Talbot (University of Alberta Faculty of Medicine, Former Chief Medical Officer of Health for Alberta)
Dr. Laura Muldoon (Director of Society, the Individual and Medicine curriculum, University of Ottawa)
Dr. Atanu Sarkar (Memorial University, Community Health and Humanities)
Dr. Duncan Webster (Division of Infectious Diseases, Dalhousie University)
Dr. Curtis Lavoie (Department of Pediatrics, University of Ottawa)
Below is the list of curricular competencies that HEART has developed:
Displacement and vulnerable populations
Food and water insecurity
Changing infectious disease burdens
Emergency disaster risk
Air pollution and health
Mental health
Climate and environmental advocacy
Ecological health promotion
Context specific practice / Remote and rural health
Reproductive health and gender equity
Green health care
Indigenous health
Please see HEART's CFMS HEART Planetary Health Toolkit for the complete Planetary Health Curricular Competencies document as well as other useful documents, including FAQs on how to talk to medical education Administrators about the Planetary Health Competencies Project.
Contact us
:
Canadian Federation of Medical Students
267 O'Connor Street, Suite 401
Ottawa, ON K2P 1V3
Office hours: weekdays 9:00 - 13:00 EST
Phone: 613–565–7740

General Inquiries: Rosemary Conliffe

Media: Adel Arezki

Information Technology: Vivian Tan