Health and Environment Adaptive Response Task Force
The Health and Environment Adaptive Response Task force (HEART) is a group within the Canadian Federation of Medical Students (CFMS) that was established in 2016 to help coordinate advocacy efforts among Canadian medical students regarding current issues in environmental health and climate change. HEART has worked on raising awareness about planetary health through various avenues, including supporting national events, such as Fridays for Future in Sept 2019. We have also developed a set of core curricular competencies that address the main environmental issues to be included in the medical school curriculum across Canada.
2019-2020 HEART Committee Members: Sasha Létourneau (Queen's University), George Tjensvoll Kitching (University of Western Ontario), Celia Walker (University of Calgary), Meghan Kerr (University of Toronto), Andréa Brabant (University of Ottawa), Jacob Carson (McMaster University), Kelan Wu (McGill University), Owen Luo (McGill University), Aishwi Roshan (University of British Columbia), Chenchen Xu (University of Ottawa)
2018-19 HEART Committee members: Finola Hackett (University of Alberta), Sasha Létourneau (Queen's University), Arianne Cohen (University of Toronto), George Kitching (University of Western Ontario), Jessica Benady-Chorney (McGill University), Kelsey MacQueen (University of Calgary), Tiffany Got (University of Toronto) , Natalya O'Neill (University of Toronto)
Current HEART Initiatives
1. Curricular Competencies
Climate change is inextricably linked to public health. HEART has been working since its creation to incorporate learning of the crucial links between climate and environmental changes and health in medical curricula, through the creation of a set of core competencies for integration in education nationwide. ​HEART's aim is to incorporate planetary health teaching into all Canadian medical schools' curricula by 2020, in line with the IFMSA's 2020 vision.
Read more about HEART's curricular competencies initiative on the Curricular Competencies Page
2. HEART Network
The HEART Network consists of Environmental Sustainability / Climate Change Officers / Environmental Interest Group leads, in addition to any other interested Canadian medical students. The Network collaborates with the core HEART Committee on local environmental health & sustainability initiatives. This may include:
Assessing the status of climate change, environment and health related curricular and extra-curricular educational initiatives at their school
Working with local experts and faculty members to advocate for integration of the HEART national core competencies into the curriculum.
Organizing local awareness events/initiatives on environment and health, and participating in national initiatives (e.g. HEART Earth Week Initiative)
All members of the HEART Network are invited on an open basis to join HEART Skype/teleconference meetings held by the HEART Committee (note: these meetings are entirely optional for members of the Network). The HEART Committee will send out updates to the HEART Network via email between meetings.
If you are interested in becoming part of this national network, please fill out this ​form
3. Awareness Initiatives
HEART has had great success thus far with events and contests that are intended to increase the knowledge and awareness of medical students towards environmental issues.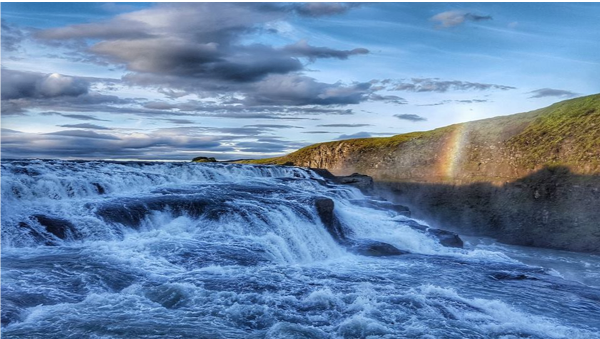 2018 Earth Day Photo Contest Winner: Midnight Sun, submitted by Candace Nayman, University of Ottawa
- For the past 2 years, our is an annual contest that allows students to submit photos they've taken that show what a sustainable and healthy environment means to them. The 2018 photo contest received 63 high-quality and varied entries from across the country.
- New in 2018, HEART's is an opportunity for medical students to upload photos to social media (Facebook, Twitter or Instagram) of them taking environmentally conscious actions that would promote a reduction in their ecological footprint (e.g. riding a bike, recycling, using a reusable coffee thermos). This increases student participation with HEART and helps them further understand the connection between their environment and the health of their community. The University of Saskatchewan medical school won the inaugural Earth Week Activity Challenge.
4. Monthly Newsletters
Each month, the HEART committee puts together a newsletter to inform Canadian medical students about our activities and initiatives and various other news and updates related to climate change and health, including links to research in this area, winning photos from last year's photo contest, tips on how you can practice "Green" medicine and lots of other interesting updates!
To see our past newsletters, ​click here.
Social Media
Instagram: cfmsheart
Facebook: https://www.facebook.com/HeartCFMS/
Twitter: @CFMS_HEART
Publications
The Province: "Sasha Letourneau, Kevin Liang and Finola Hackett: Medical students take a stand on climate change." Published September 16, 2019. Link: https://theprovince.com/opinion/op-ed/sasha-letourneau-kevin-liang-and-finola-hackett-medical-students-take-a-stand-on-climate-change

Authors: Sasha Létourneau, Queen's University Class of 2021, Kevin Liang, University of British Columbia Class of 2020, Finola Hackett, University of Alberta Class of 2019, HEART Chair (2017-18 and 2018-19)

CMAJ Blogs: "The Future of Climate Change: The HEART Initiative." Published June 24, 2019. Link: https://cmajblogs.com/the-future-of-climate-change-the-heart-initiative/

Authors: Finola Hackett, University of Alberta Class of 2019, HEART Chair (2017-18 and 2018-19) and Tiffany Got, University of Toronto Class of 2021, HEART Committee (2018-19).
Edits were contributed by HEART 2017-18 members: Julia Sawatzky, University of Alberta MD Class of 2021, Itai Malkin, University of Ottawa MD Class of 2019.

CFMS Annual Review 2019: "Accountable for our patients & our planet," page 12-13. Published April 2019. Link: https://www.cfms.org/files/annual-review/annualreview2019.pdf

Author: Finola Hackett, CFMS HEART Chair (2017-2019), University of Alberta Class of 2019
Editors: Jessica Benady-Chorney CFMS HEART Committee Member, McGill University Class of 2021; George T. Kitching, CFMS HEART Committee Member, Western University Class of 2021

CMAJ News: "Why aren't more doctors talking about climate change?" Published March 12, 2019. Link: https://cmajnews.com/2019/03/12/why-arent-more-doctors-talking-about-climate-change-cmaj-109-5731/
CMAJ News: "Medical students call for more education on climate change." Published: February 19, 2019. Link: https://cmajnews.com/2019/02/19/medical-students-call-for-more-education-on-climate-change-cmaj-109-5717/
Relevant and Useful Links
Contact us
:
Canadian Federation of Medical Students
267 O'Connor Street, Suite 401
Ottawa, ON K2P 1V3
Office hours: weekdays 9:00 - 13:00 EST
Phone: 613–565–7740

General Inquiries: Rosemary Conliffe

Media: Adel Arezki

Information Technology: Vivian Tan