Governance Structure
Overall Structure of the CFMS
The CFMS represents over 8,000 medical students from 14 Canadian medical student societies from coast to coast. Students at schools that are part of the CFMS are automatically part of the CFMS. For a list of member schools, see here.
As a CFMS member, you can run for a position as an Executive, National Officer, or a member of a committee. You are also eligible to participate in either of the 2 meetings that the CFMS holds annually: the Annual General Meeting (AGM) in the Fall, and the Spring General Meeting (SGM) in the Spring.
Decision Making Branches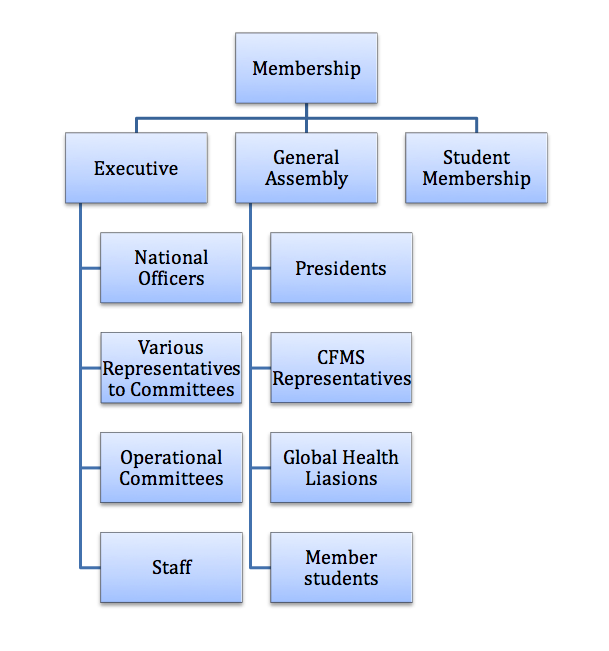 Broad Global Health Organization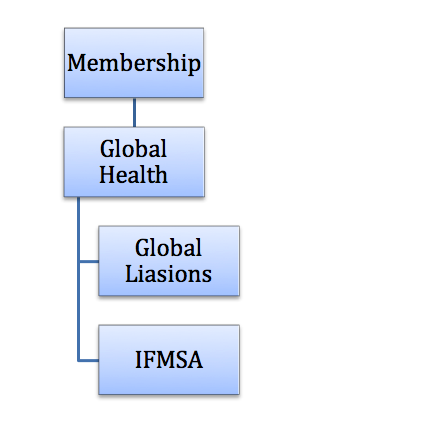 CFMS Membership
The medical student societies are each represented by two CFMS Reps who attend the AGM and SGM and maintain contact with each other and the executive throughout the year.
Decisions are carried out by vote with each institutional member receiving two votes and each executive member receiving one. Medical student societies commonly send more than two representatives to participate in CFMS meetings and activities.
Executive Structure
The CFMS is led by an Executive Committee consisting of a President, Past-President, six Vice Presidents responsible for different portfolios, and six Regional Representatives, each with a one-year term. All Executive Members (shown in red) are elected at the Annual General Meeting (AGM) in September with the exception of the President who is elected at the Spring General Meeting (SGM) and serves as President-Elect until the AGM.
The Executive is supported by a General Manager in Ottawa who manages the office and carries out much of the day-to-day operation of the organization. Each year the Executive also appoints various National Officers (shown in orange) who carry out specific roles commissioned by the membership, such as our annual blood drive, publications, and wellness initiatives.