Nutrition Wellness
Theme 1: Longitudinal Wellness Initiative

|

May-June
Innovative School Initiatives
---
Ottawa
At uOttawa, we have had a few great initiatives run by our own Student Wellness Committee as well as events run through several of our student run interest groups that help to promote nutrition and healthy lifestyle within our faculty.
As a Student Wellness Committee, we ran a salad potluck as part of the CFMS Wellness month nutrition week. We used one of the small student rooms during lunch time in which students who wanted to take part in the event were asked to bring one component of a salad (ex. Spinach, cut up cucumber, tomatoes, peppers, etc.). Dressing or oil and vinegar was provided. To keep it green, we asked students to bring their own tupperware and fork and students mixed their own preference of ingredients. It was a very simple and easy to run initiative that was a nice way to provide a healthy lunch as well as bring students of different years together.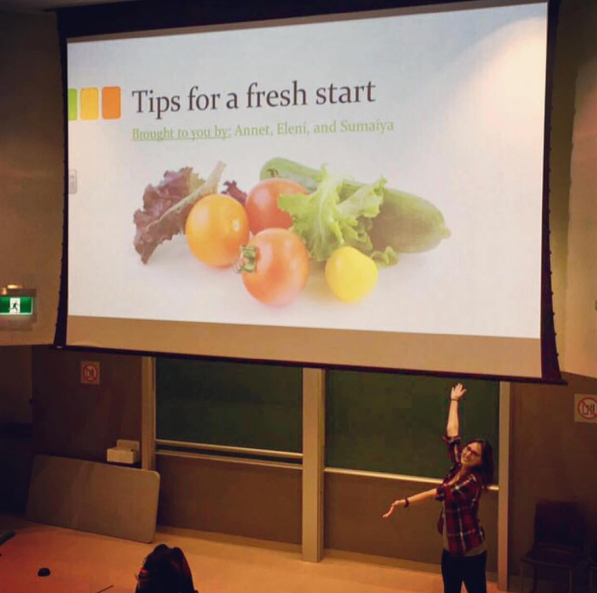 Photo from one of the Medical Students Promoting Nutrition interest group talks. Photo credit: Eleni Lavreault
We also have a Weight Management interest group that focuses on providing students with resources and knowledge about weight management care and obesity management through lunchtime talks and events. We also have a Medical Students Promoting Nutrition interest group that runs a wide range of talks and initiatives that not only promote healthy eating and exercise amongst medical students, but also introduces the importance of nutrition and exercise to elementary school students.
Dalhousie
Stone salads have been a success at Dalhousie University. We have been offering them weekly throughout CFMS Wellness month and are looking at continuing them for the rest of the year! Stone salad is a great way to build comradarie and get your veggie fix at the same time.
A sign-up sheet is posted where people volunteer to bring different ingredients (either a salad green, a vegetable, a protein, a sauce or a topping) to be used in salad making. Each person combines their own choice of ingredients. Recommended using a minimum of 6 people with no maximum, and they are hosted in our school lounge!
Prior to exams, it's Dal tradition for the Med1 and Med2 class to host a reciprocal potluck for the class with an exam. The potlucks are a huge help to supplement our nutrition and boost vegetable intake when it gets down to crunch time.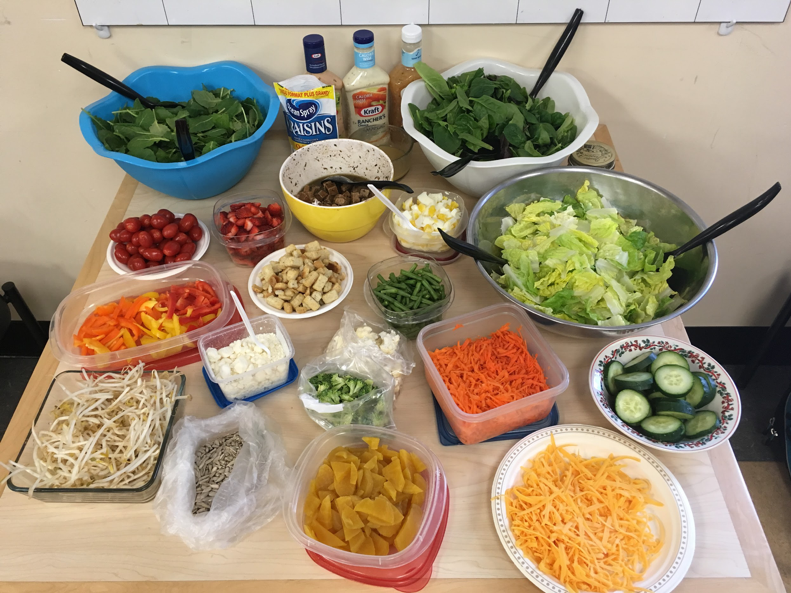 Dalhousie Wellness week in March will also offer some nutrition initiates. We have a stone salad planned as well as a grocery store tour with a dietitian and a cooking class to learn how to prepare a healthy, home-cooked meal.
NOSM
Our school also trains dieticians and as a result they organized what they call a Culinary Medicine Lab (CML). They organize for students to cook a few dishes with recipes they have selected and bought groceries for. Then students get to eat the food and listen to a short discussion about a particular topic such as ''The Weight of Stigma - Changing Minds, Not Bodies'' and only for 10$ per student. I went to one event and it was a great way to learn new recipes and cook with your classmates.
Memorial University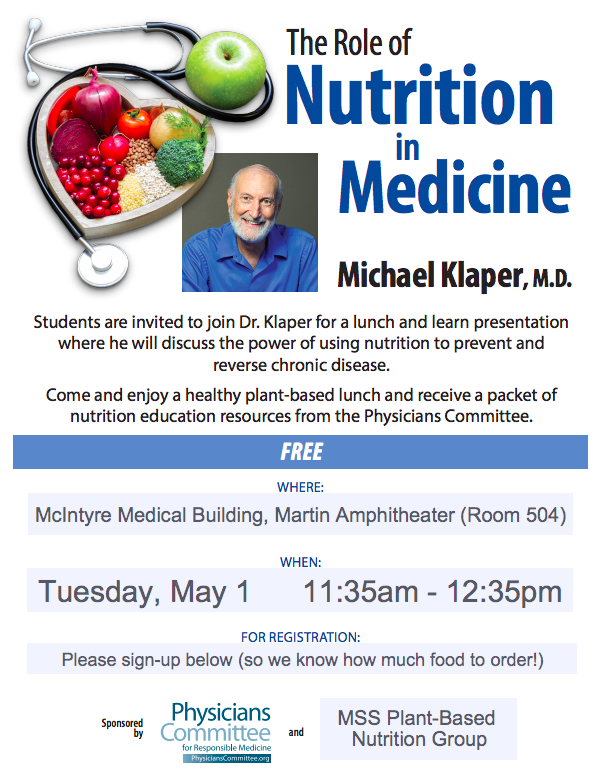 The Exercise is Medicine interest group at Memorial University has started "healthy snack sales" this year to replace bake sales as a fundraising initiative. In the hallway en route to the cafeteria there is a place known to all Memorial medical students as "bake sale alley". Here, various students groups from Medicine, Nursing and Pharmacy often hold bake sales to raise money for their group or charities. While it is definitely nice to treat yourself to something sweet once in a while, our Exercise is Medicine group decided that it was time to switch it up and start offering a healthier alternative. Some of the snacks featured included carrots & hummus, beet chips & mango salsa, and many other delicious foods. This initiative has gotten a lot of positive feedback and is an easy way to promote healthy eating! Bonus: the snacks are sold "by donation" so it also is way cheaper for students to purchase snacks from the sale instead of in the cafeteria.
McGill
The Plant-Based Nutrition Group (PBNG) at McGill offers cooking classes for students interested in plant-based nutrition, whether or not they follow a vegan diet. At these free events, the ingredients are provided and participants have the chance to prepare and enjoy a tasty plant-based meal, like spaghetti carbonara, or black-bean burgers. The students can take home the recipe, including a nutritional and cost breakdown, to help them include more healthy eating in their busy lives.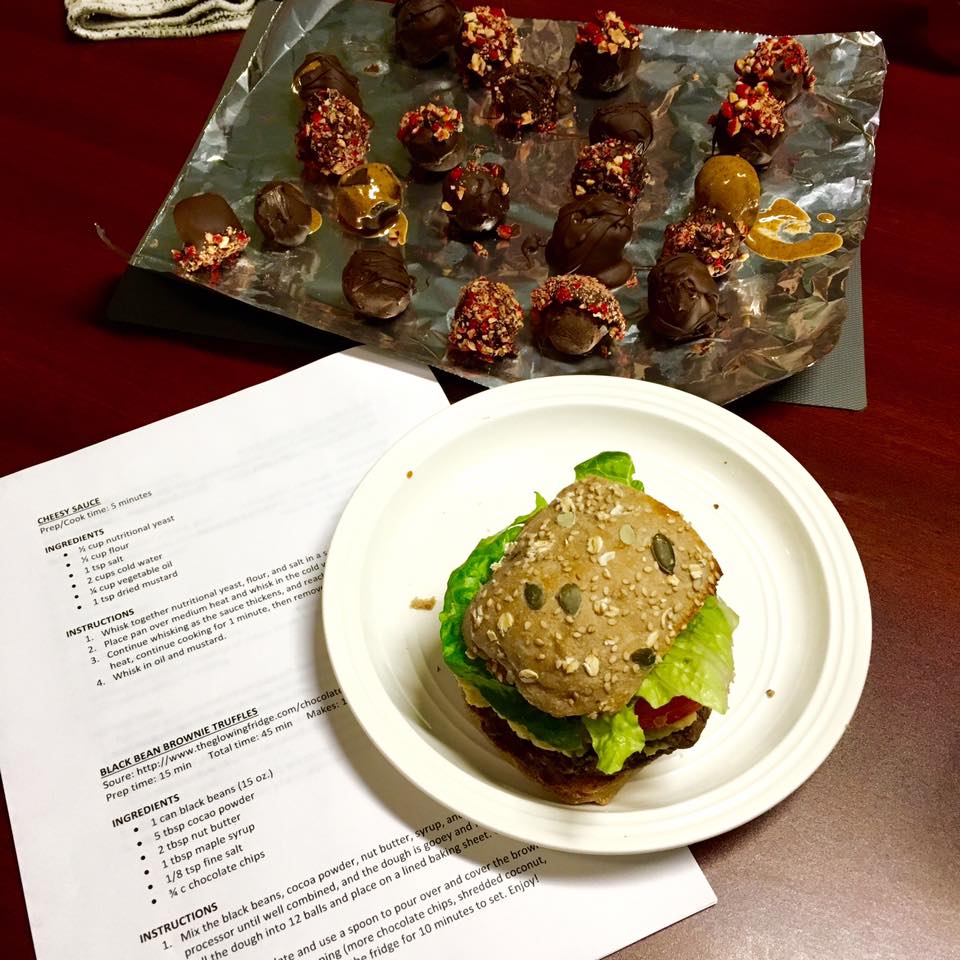 Black-bean burgers (with chocolate truffles for dessert) made at the most recent cooking class hosted by the McGill Medical Students Society Plant-Based Nutrition Group. Photo: Melissa Vitagliano.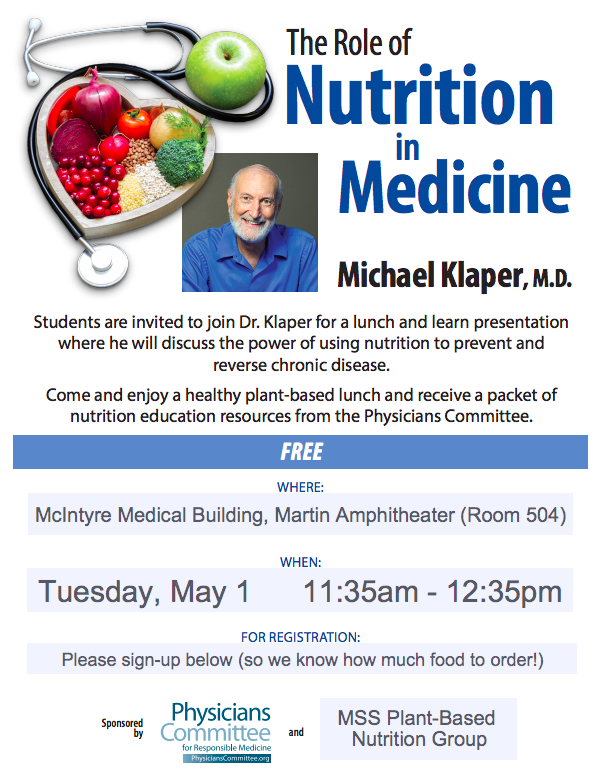 The PBNG has also organized wine & (non-dairy) cheeses and documentary screenings, to promote discussion of the effects of diet on health and disease. It also distributes resources and informs students of interesting events such as online webinars discussing dietary in clinical medicine. In May, the group is looking forward to hosting a lunch and lecture exploring the role of nutrition in chronic disease, delivered by Dr. Michael Klaper of the Physician's Committee for Responsible Medicine; registration will be open to all medical students at no cost.
Medical Student Wellness Gems:
---
Ali Goodbaum, Class of 2021
Oh She Glows is an online blog and cookbook that focuses on plant-based recipes and uses real, whole food ingredients. Aside from the amazing photography that accompanies each recipe, I love that the recipes are healthy, colourful, and filling. There is so much variety on this website, that no matter what I feel like cooking, I can always find an Oh She Glows healthy recipe for it!
Click here to go on the website
The instagram account @bodyby.becca focuses on both fitness and nutrition. I love the recipes because they use a variety of natural ingredients, are high in protein, and are all super healthy. I love getting new ideas for pre and post workout snacks. Her workout tutorials are also unique, fun and easy to follow, so you can eat well and be fit!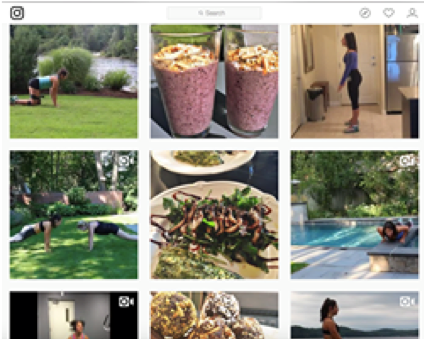 Iuliia Povieriena, Class of 2021
I was looking for resources for patients one day and came across this website. I find it very helpful credible source of information and I subscribed to the Harvard Chan School of Public Health newsletter. It often brings interesting news on nutrition and healthy recipes. For example, they sent great tips on how to avoid overeating and how to make healthy holiday dishes before Christmas, new research of common food products and advice on proper preparation.

Emily King, Class of 2020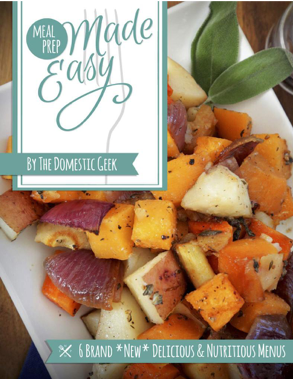 I've been using a youtube channel called "The Domestic Geek" for almost four years now! Most of the recipes that I make come straight from her videos. She makes a wide variety of content, including meal prep videos and how to plan themed dinner parties. Currently she's doing a series called "Healthy Foods Remixed!" and she's finding new ways to use healthy ingredients. My current favorite recipe is her tomato soup which uses HUMMUS as one of the main ingredients (it's DELICIOUS). I can't say enough good things about her recipes! I recommend that everyone give this youtube channel a try.
Jinessa Lane, Class of 2021
I wanted to share this blog I've been following for a few years called the food medic. The blogger is a medical doctor in the UK who shares healthy recipes, wellness tips, and awesome workouts. She has a blog, youtube channel and other social media platforms. I really like that she incorporates information from peer-reviewed academic sources and other healthcare professionals when discussing nutrition topics. I believe that sources like this help to bridge the gap between the academic community and the general public.
https://thefoodmedic.co.uk/category/health-fitness/nutrition/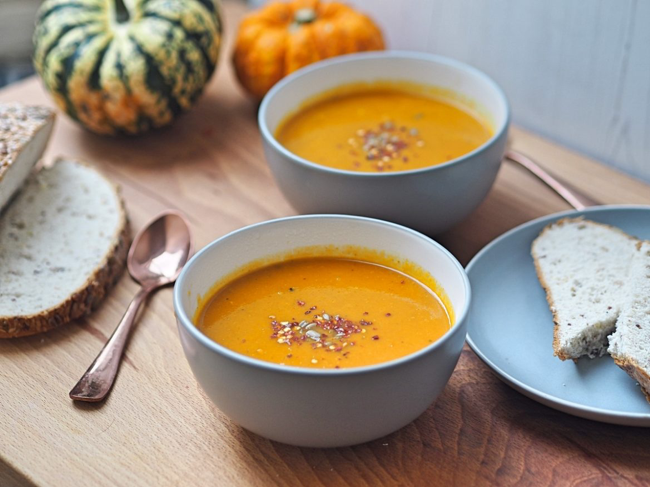 Photo credit: https://thefoodmedic.co.uk/2017/10/spicy-butternut-squash-and-carrot-soup/
Call for Student Wellness Resources:

If you know and use use any good websites, apps of youtube channels for your mental health, physical health, relationships or nutrition - we want to hear from you!

Please email Iuliia Povieriena at [email protected] to share it with the rest of the CFMS community.
Simaran Kalkat, Class of 2020 (UBC)
I love to cook and follow MANY food blogs, but here are some blogs and resources that I feel are accessible to everyone - various skill levels and they use ingredients that can be found at most regular grocery stores.
Minimalist Baker - is a greater source for simple, easy to make, plant-based recipes. There are many options for various dietary restrictions and preferences, such as gluten-free, nut-free, etc. Most recipes are also quite quick to make (often less than 30 minutes).

Dietitians of Canada - I love using this resource to learn more about nutrition, including the benefits of particular nutreints, good sources of these nutrients, as well as links to simple recipes.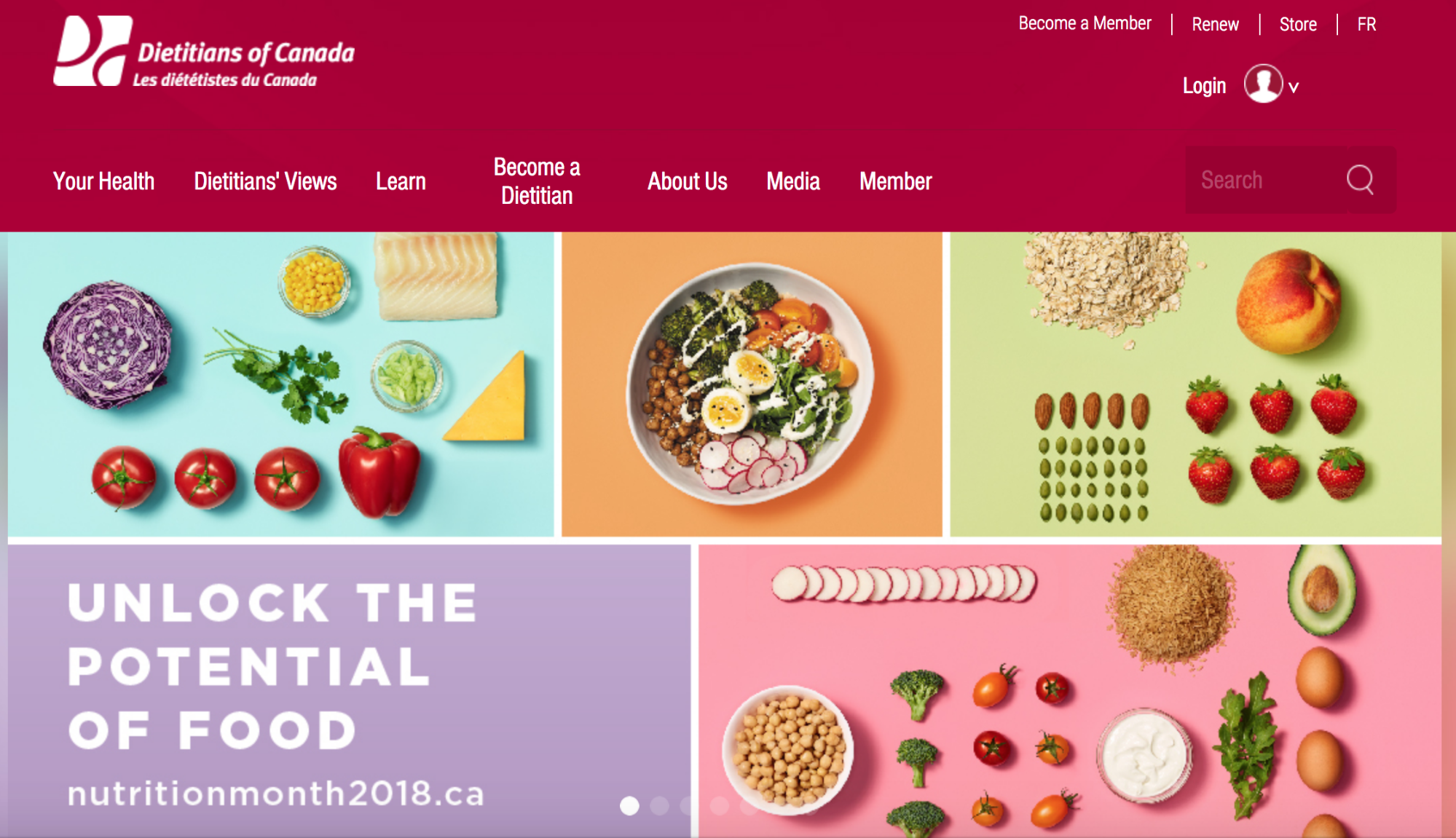 Food by Maria - I love this blog, not only for recipes, but also because of the positive messages Maria shares about food. Her motto is "Fear not, food is your friend". This blog has some very easy and nutritious plant-based recipes, along with constant reminders to help us foster a healthy relationship with food.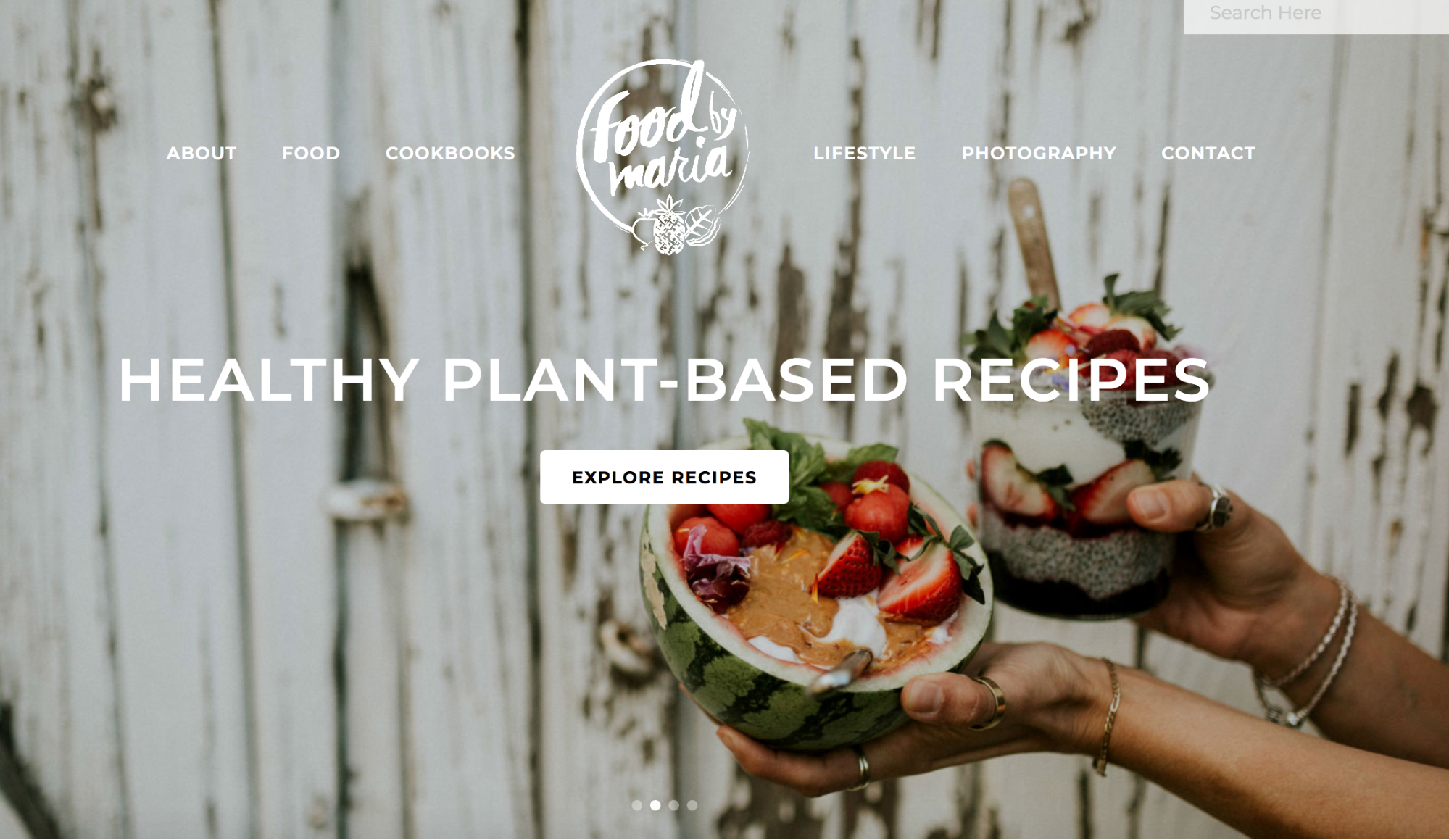 Christine Audi, Class of 2019 (McGill)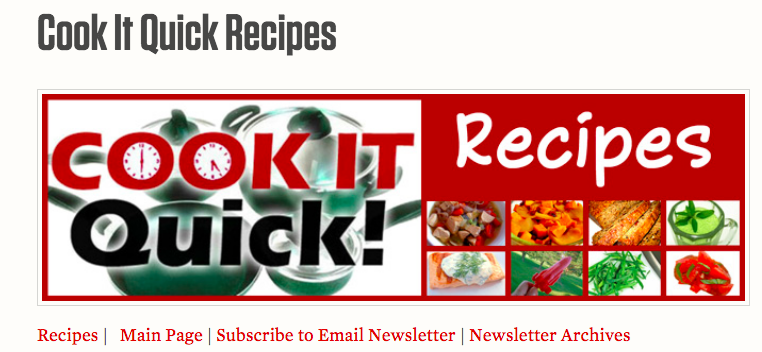 Cook It Quick is an online website which provides healthy recipes that are delicious, quick to prepare and inexpensive. The recipes aim to increase the amount of fruits, vegetables, whole grains and low-fat dairy products in your diet, and include food safety tips! There are PLENTY of recipes here, including main meals, soups, snacks, salads, beverages, smoothies and much more.